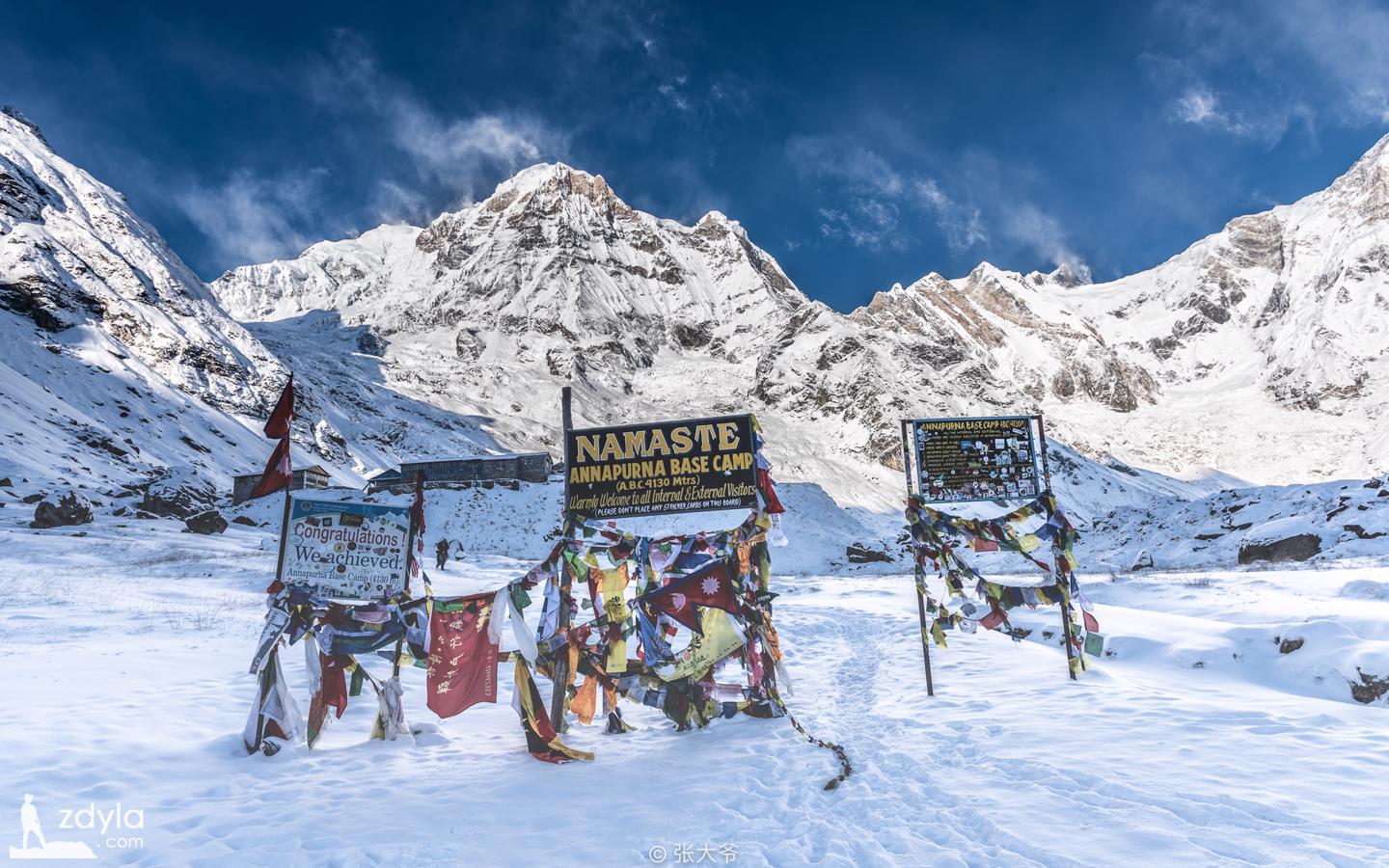 Located in the southern foothills of the Himalayas, Nepal has eight of the world's ten highest mountains. It has the best hiking route in the world, known as the paradise for hikers.
ABC is the abbreviation of Annapurna base camp, so the route to Annapurna base camp on foot is also referred to as ABC. This relatively mature hiking route is of moderate difficulty, with inns and shops all over the way, so it is very convenient for supply and rest. At the same time, ABC is a very cost-effective hiking route, with low difficulty, low cost and magnificent scenery. You can try it even without hiking experience.
Preparation before departure
Best time
During the year, March to May and October to December are the best seasons for hiking ABC. Fortunately, you can also enter the mountain in January. It often snows in the valley in February. It's not easy to walk, but it's also easy to have avalanches. The scenic area usually seals the mountain at this time. From mid May to mid September, the local climate is in the rainy season. At this time, the hiking route is often rainy and muddy.
Essential items
Before entering Nepal, please prepare two copies of passports and a number of two inch and one inch white background photos, at least four of each, which are required for handling local telephone card and mountain entry formalities.
Hiking equipment
Backpack: 30 - 60 l, no need to carry a lot of materials, in addition to some simple road meals, other can be less.
Climbing Stick: 2, more labor-saving uphill, downhill can maintain balance, reduce knee pressure.
Kneepad: it can effectively relieve the pressure on the knee joint caused by walking, and avoid the worries of future problems after walking.
Raincoat: the weather is unpredictable. It's necessary for hiking.
Headlights: prevent use when walking at night and watching sunrise. In the valley, it is necessary to cut off electricity from time to time.
Clothing: charge clothes, quick drying underwear, down clothes, hiking shoes and socks, hats, magic headscarves, hiking gloves.
Other: warm water bottles, beef jerky, sunscreen, sunglasses, lip balm and so on.
Procedures for entering the mountain
Hikers need to apply for ACAP and tims to be allowed to hike. Among them, the former costs 2000 rupees / person, while the latter costs 3000 rupees / person. If there are hired porters or guides, the price of tims can be reduced by half.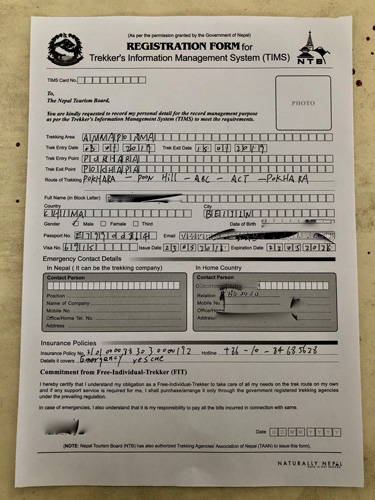 Forms to be completed for tims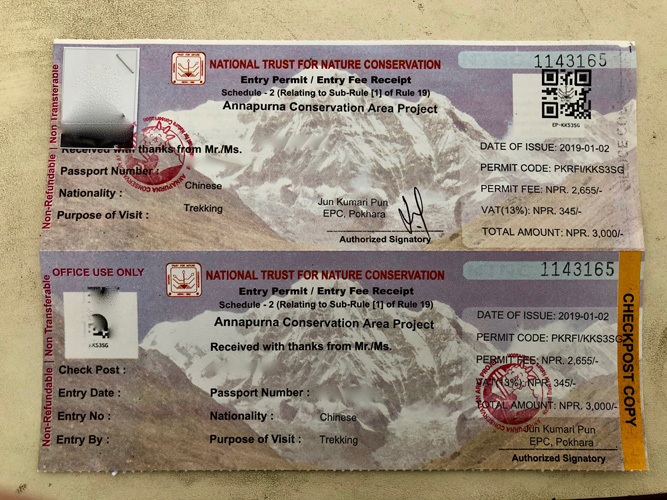 Hiker information management system (TIMS)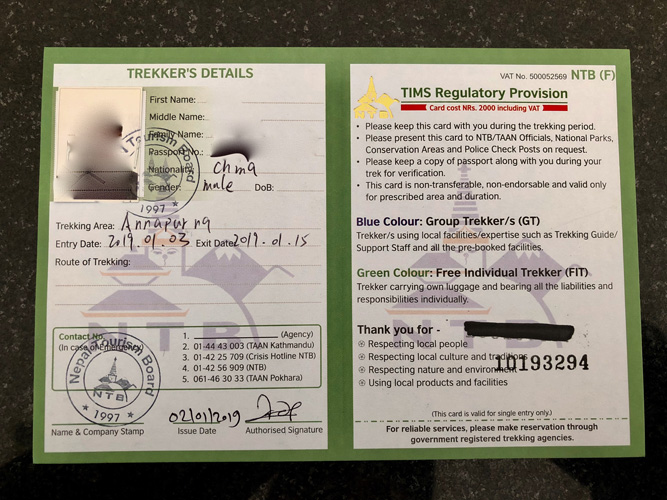 Annapurna reserve permit (ACAP)
In the process of hiking, two certificates must be carried with you. The original certificates are required to be presented at each inspection station. Those who do not show them will not be released.
In order to avoid the loss of certificates, it is recommended to go through the procedures after arriving in bocala. Can entrust travel agency to deal with, the price will add 200 - 300 rupees agency fee, of course, can also go to the Tourism Bureau to deal with.
You need to show the original passport, one copy of passport and four white background photos (one inch or two inches).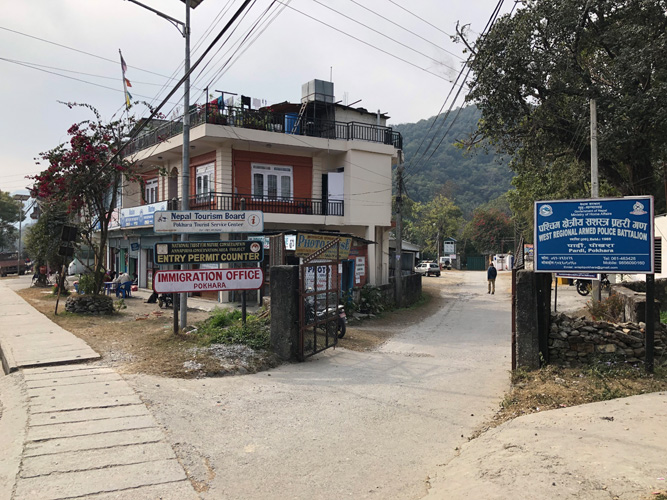 IMMIGRATION OFFICE
Bocala's Certificate Office is located in the yard of the immigration office. Go to the direction of David falls and follow the footpath of Lake Fava. Next to the park is the gate of the yard.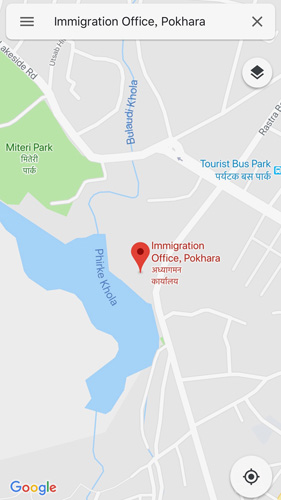 It's easy to find with Google Maps
Guide and Porter
The guide can usually communicate in English or speak simple Chinese. Their main work includes leading the way, explaining the scenic spots along the way, helping the guests find a suitable Inn, helping the guests to solve the problems encountered in the hiking. The guide fee is 15 - 20 USD / day.
The porter is responsible for carrying the luggage of the guests. Most English is common, and simple communication can also be carried out. The weight of the porter must be controlled within 25 kg, and the luggage of multiple hikers should be within 25 kg. Then a porter can be hired. The porter can be used as a spare for 10 - 12 USD / day.
In addition to carrying luggage, Porter can also provide guide service. For hikers who want to control the travel cost, they can choose to hire Porter only.
Catering and accommodation
The accommodation on foot is very cheap, and the price can be negotiated in the off-season. The hostels that provide accommodation generally provide meals. It should be noted that when choosing accommodation, you must choose to eat at the accommodation point. The hostel half way before hiking can basically avoid the accommodation cost by eating at the accommodation point through communication with the boss.
If there is no result in communication with the boss, the first half of the accommodation fee is generally 100 - 200 rupees per night, and the second half is 500 rupees per night.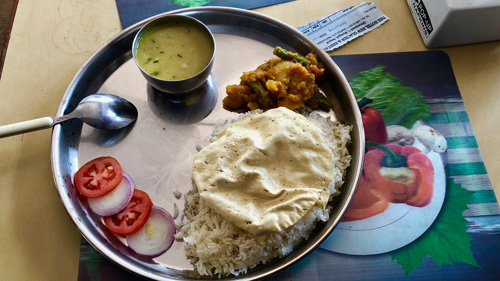 Economical and affordable Nepal package (unlimited rice)
The cost of a meal is usually 300 - 500 rupees. In addition, since the second half of the trip is in the valley with high altitude, all expenses will be upgraded, such as 50 - 100 rupees for 1 liter of cold water, 200 - 300 rupees for 1 liter of hot water, 200 - 300 rupees for Wi Fi usage, 100 - 300 rupees for mobile phone charging, 100 - 300 rupees for bathing, etc
According to my experience in hiking, 1000 - 1500 rupees per day is enough, and 2000 rupees per day is enough for eating, drinking and spicy food. In order to be a little more comfortable on foot, it's a pleasure to drink more hot water and hot milk. It may cost less than 1000 rupees a day in the early stage, but it may cost 2500 - 3500 rupees a day to enter the high altitude Valley!
Itinerary
Day 1: arrive in Kathmandu, change money and apply for local phone card
The next day: arrive in Bokhara and go through the formalities for entering the mountain
Day 3: Pokhara - nayapul (starting point of hike) - birethanti - matathanyi - lamdawali - sudame - Heli - tikhe dhunga - ulleri (about 13km hike)
Day 4: ulleri - nangethanti - ghorpani - poon Hill - ghorpani (about 14 km on foot)
Day 5: ghorapani - poon Hill - ghorapani - thapla Hill - dearali - ban thanti - tadapani (about 12km on foot)
Day 6: tadapani - chuile - siprong - shurjung - gurjung - chyrong (about 13km on foot)
Day 7: chhomong - tilche - bhanuwa - sinuwa - bamboo - dovan - Himalaya - deurali (about 18 km on foot)
Day 8: deurali - MBC - ABC (about 9 km on foot)
Day 9: ABC - MBC - deurali - Himalaya - dovan - bamboo - sinuwa - bhanuwa - chhomong (about 28 km on foot)
Day 10: chhomorong - taulung - jhinu Danda - samrung - Jeep counter siwai Pokhara - Pokhara (about 12km on foot)
Day 11: rest and return home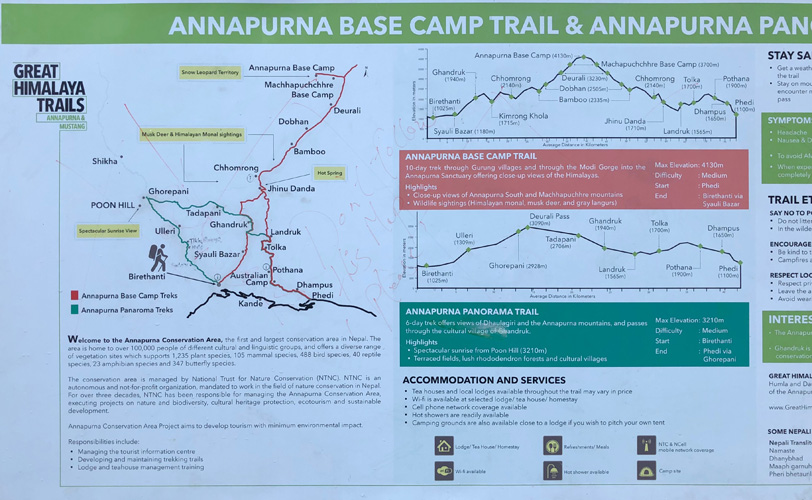 From the third day to the eleventh day, it takes seven and a half days to walk. The daily walking distance is about 10 - 20 kilometers, taking 4 - 5 hours, with moderate intensity
Public transport
In addition to taking a taxi, Nepal's public transport can also take a bus. There are advanced tourism bus and cheap local bus.
The bus from gongabu bus station in Kathmandu to Pokhara is cheap. It only costs 430 rupees and takes 8 - 9 hours. It's best to take the 9:00 am bus.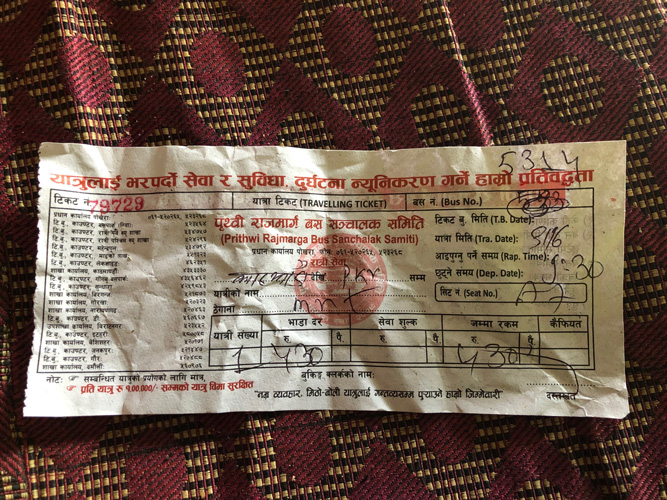 Bocala's return bus can be taken in tourist bus park. Travel agencies, Chinese restaurants and inns can provide ticket booking services. It is also possible to directly go to the station and the driver to buy tickets.
From bokala to the starting point of hiking, nayapul can take a bus, but the station is hard to find. The taxi fare is about 2000 rupees. Because the taxi in Nepal is relatively small, it is suitable for 3 people.
On the last day of hiking, you can choose to hike to the exit of nayapul and take a taxi back to bocala, or you can choose to go to Jeep counter and take a jeep back to bocala. A jeep is 5500 rupees and can take 7-8 people. If the number of your team is too small, you can also wait for other hikers to carpool together in situ.
Compared with the former, it's a wise choice to take a jeep to Jeep counter. It costs less, the scenery on the way is not good, and it's not worth the unnecessary physical consumption
Cost budget
If you need to change rupees, do not go to the exchange shop, because the exchange rate is low. Second, it's better to stay in Kathmandu, such as the Chengdu hotel opened by the Chinese. The exchange rate is the highest I have ever seen. Bocala can also exchange money in places such as China hotel. The exchange rate is generally 1 to 2 points lower than in Kathmandu.
As of January 2019, RMB 1 can be converted to INR 17.15. As the exchange rate changes from time to time, the following fees are based on the cost of INR.
Procedures for entering the mountain: 5000 rupees
Include:
Annapurna reserve permit (ACAP): INR 2000
Hiker information management system (TIMS): INR 3000
Budget for hiking: RS 10000 + RS 5000
Include:
Seven day hike cost 1500 * 7 days = 8500 rupees
Taxi to the starting point of hiking: nayapul 700-1000 rupees
800 rupees by jeep on foot
The above is the minimum budget and may be subject to a fluctuation of RS 2000 to RS 5000
Transportation budget: INR 1000
Include:
Shuttle between Kathmandu and Pokhara
Other expenses: Several
Include:
Food, housing, transportation, play and souvenirs of Kathmandu and Bokhara
According to my expense summary: if you are not extravagant, 2000 yuan is enough!
My hiking log
See here, if you can't help but go hiking, you can see my hiking log, which records some places of accommodation, changes in terrain, difficulties and feelings in hiking, which will help you
Day 1
Route : Pokhara - nayapul (starting point of hike) - birethanti - matathanyi - lamdawali - sudame - Heli - tikhe dhunga - ulleri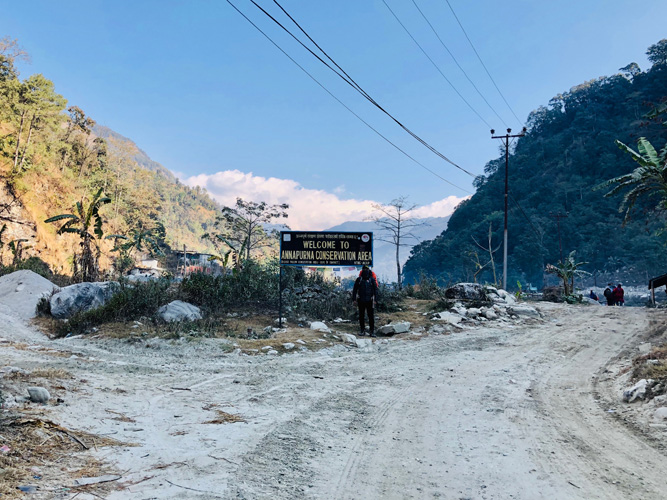 The hike has begun, so excited!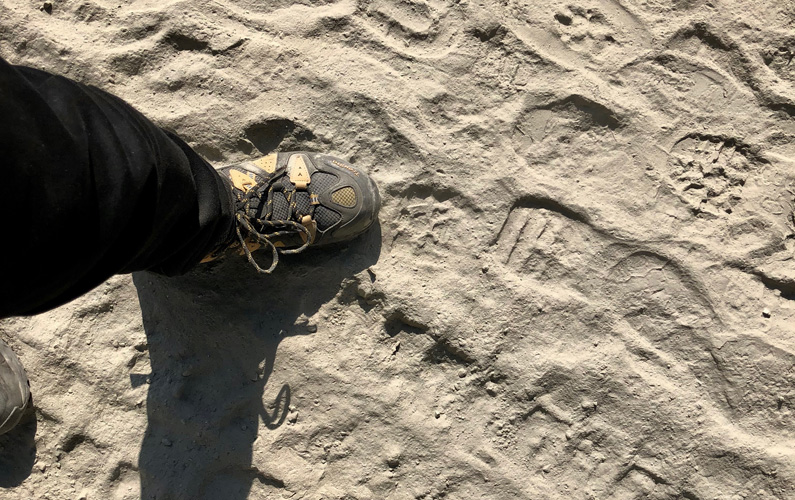 There is so much soil on the mountain road from nayapul to birethanti that it can cover the feet. All the way, you are eating ash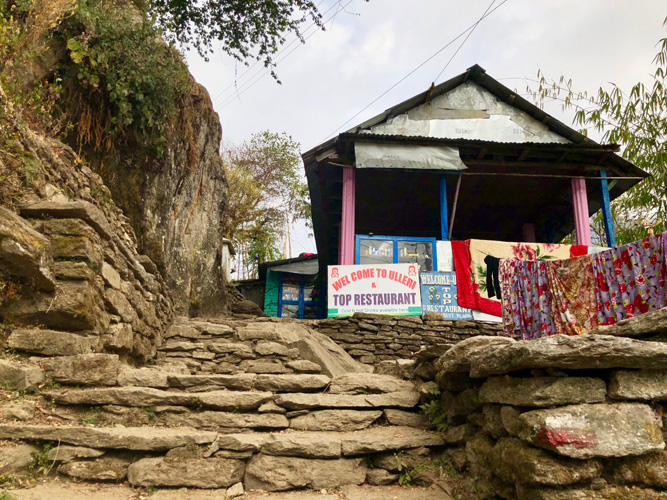 The road from tikhe dhunga to ulleri became steeper, and I was exhausted from climbing
Day 2
Route : ulleri - nangethanti - ghorpani - PON Hill - ghorpani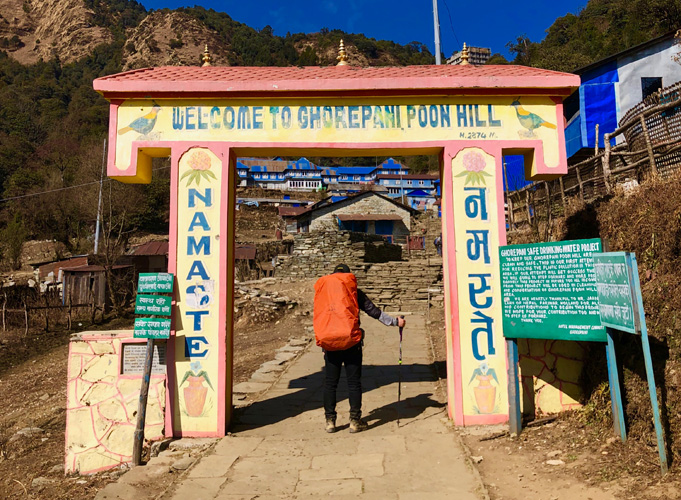 Today's road is relatively easy compared with yesterday's, maybe it's because yesterday didn't have breakfast! Every ascending section of ulleri to ghorapani road will have a gentle slope of more than ten or twenty meters, so you can take the opportunity to adjust. If you pass the village, it will be better. The adjusted section can be extended to forty or fifty meters, and you can form a rhythm without stopping! So I walked nearly nine kilometers for three hours, which was pretty good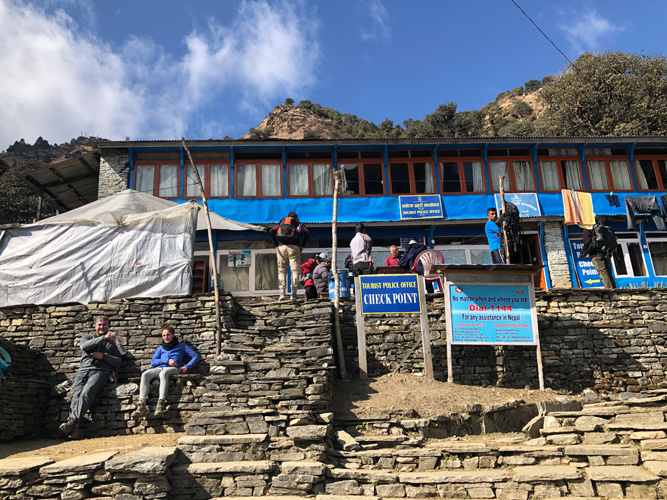 Ghorepani Check Point
Day 3
Route : ghorepani - poon hill - ghorepani - thapla hill - dearali - ban thanti - tadapani - chuile - siprong - shurjung - gurjung - chhomrong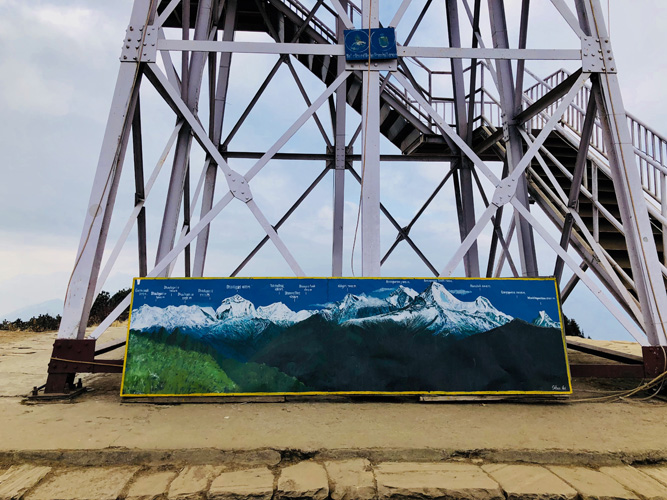 Boone Hill viewing platform

Watching the sunrise on Poon hill is amazing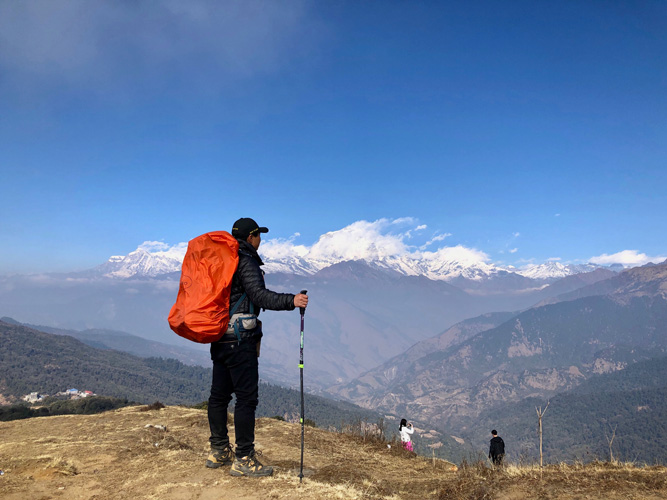 Thapla hill is another observation platform similar to Poon hill, which is a great place to watch the peaks of Dhaulagiri. Then, thapla hill goes down into the virgin forest!
The scenery of the primeval forest is similar to the ice lake section of Yubeng Village, which is full of fir trees and red birch trees. Although it's cold in the forest, it's hot in the clothes, just like washing hot springs (if you've felt the hot springs in the snow), how comfortable! Otherwise, we will not go to chhomorong, which is equivalent to a normal two-day journey!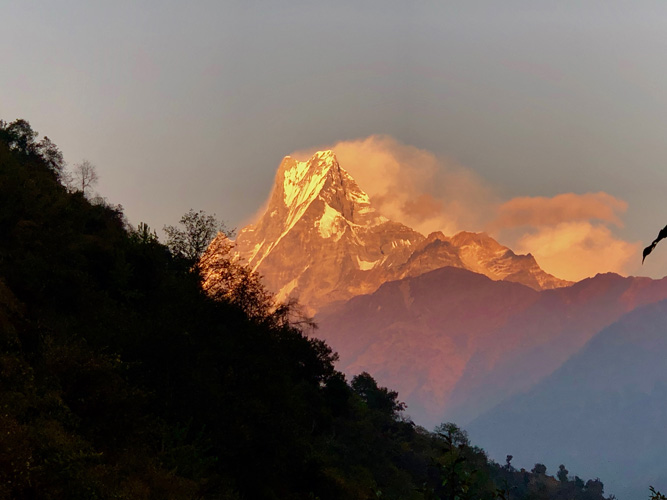 On the way to chhomorong, we saw the setting sun of Yuwei peak, beat our hearts and feet, and felt like crying but,late,its too late! Think about what an explosive sunset it would be if you were on the moon hill!
Day 4
Route : chhomrong - tilche - bhanuwa - sinuwa - bamboo - dovan - himalaya - deurali
Today, I woke up and found that my leg was a little sore. I walked a little bit more yesterday
It is said that tadapani has the most beautiful rural scenery. If you want to stay for one night, in fact, you should stand opposite to chhomong to see the most beautiful terrace!
When I left chhomong, the innkeeper said: "up, down, up, down..." while drawing At first, I didn't care about this preventive needle, because the altitude of the rest point shown on the map is rising, and where can the down go!
Not happy for a while, the exit of chhomorong is endless downward When we climbed to the same height as the starting point on the opposite mountain, suddenly looking back, it was two hours later Then there is sinuwa, which is at a lower altitude. I thought it would go down comfortably for a while. What you didn't expect is that it was on the mountain We can imagine how high we climb and how low we descend!
I have to say that bamboos are a very good place to rest, because the innkeeper's set meal is too affordable. Besides beans, there are vegetables. The boss's set meal at the last stop was all curry fried beans. I'm sorry to fart all the way! I asked the boss to add a rice for me. He even gave me another dish. He looked at me in surprise. He just smiled and left
So, for the first time in the valley, I had enough! Leaving bamboos is a long gentle slope, which is very helpful to eat. This is also a point to recommend this place!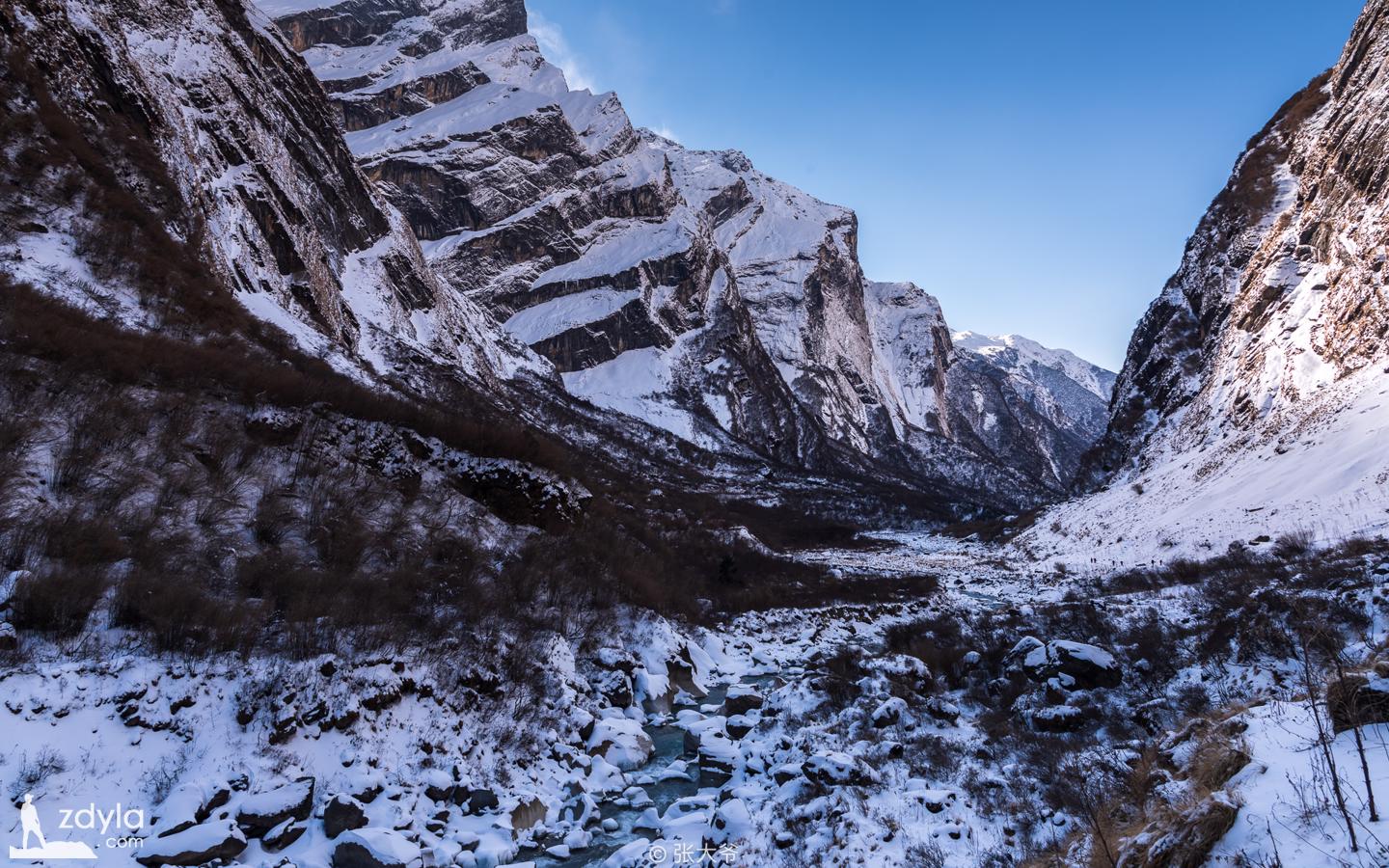 Countless ups and downs, we finally arrived at Himalaya at 4:00 p.m., and now I am exhausted, I have to continue
It didn't take long to walk. Snow began to fall in the deep valley, but it was not like snow. It was like tiny ice blocks condensed by fog. The road to deurali was covered with these small ice blocks. Whenever someone walked by, they were steadfast and became ice roads So I fell down to deurali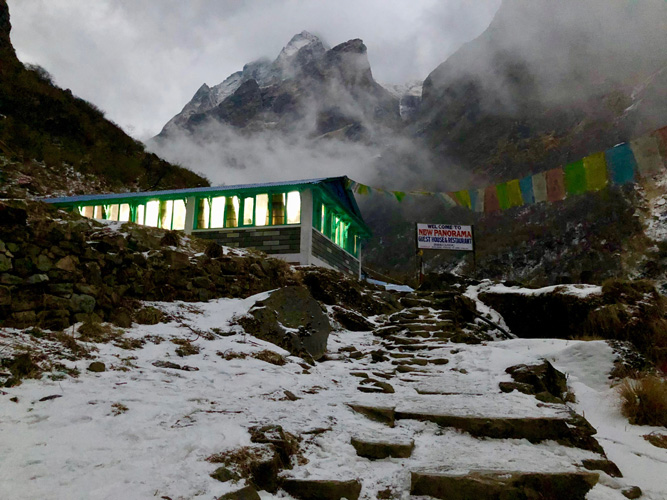 Day 5
Route : deural - mbc - abc
Push the door early in the morning. There is a lot of snow outside. All the people are packing up for the next stop.
It's too cold, the water pipe is frozen to death, so I won't wash my face!
The whole journey has been through the ice and snow. It's very difficult to walk. The shoes on the ice claw will slide slightly in the snow. On the way, they will pass the cliff from time to time. It's breathtaking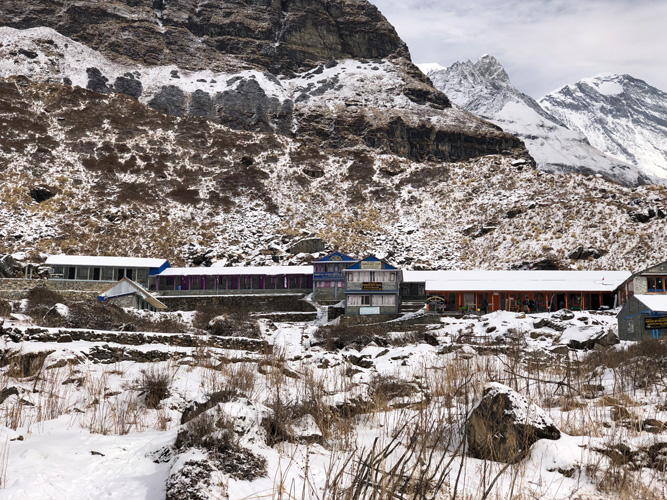 MBC
Close to MBC, the scenery gradually becomes spectacular, especially Yuwei peak, which looks like a warrior in armor standing in the ice and snow, tall and dignified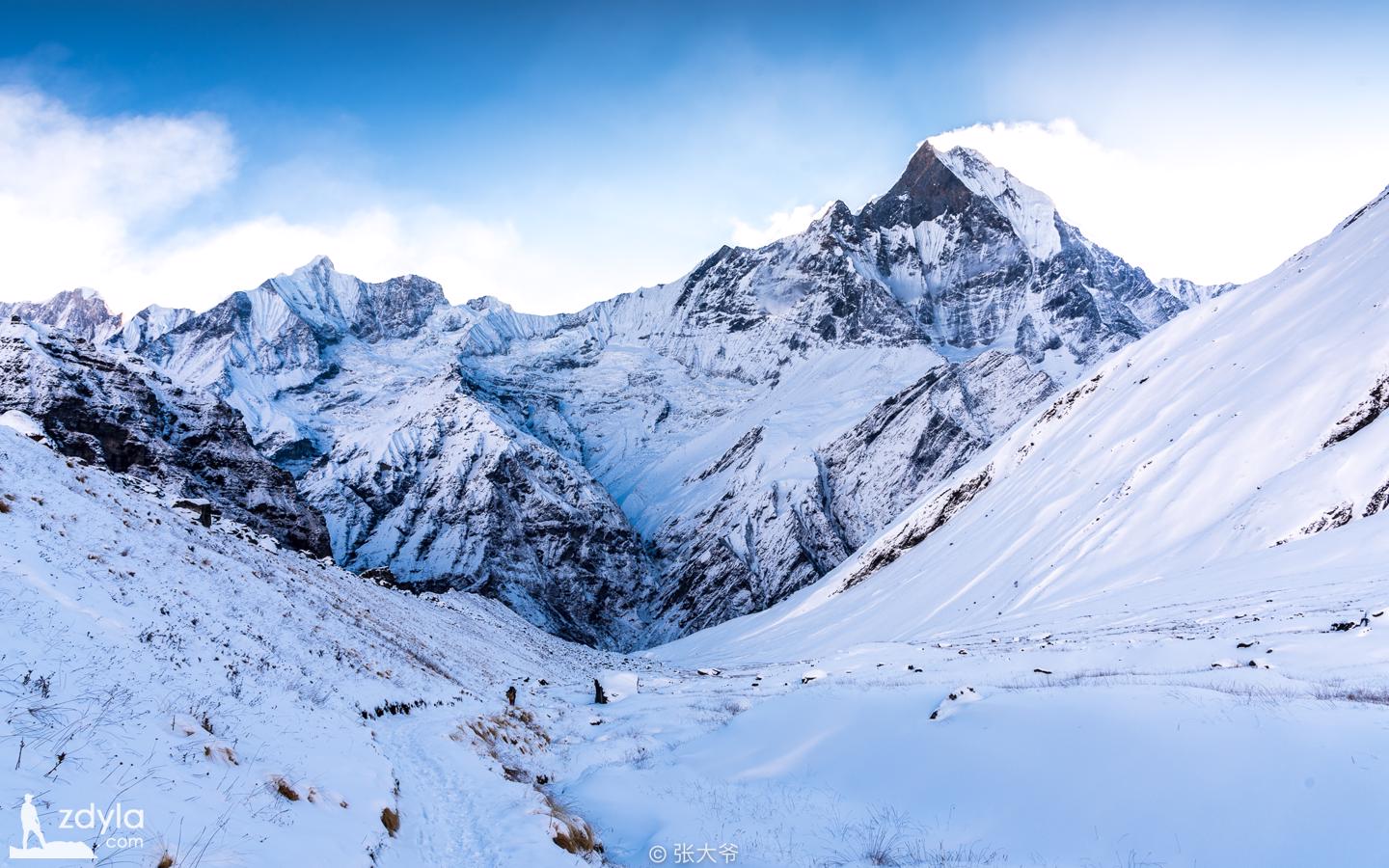 Yuwei peak
After another two hours' walk, we finally arrived at ABC, but now the fog is rising and we can't see anything, so we have to eat and rest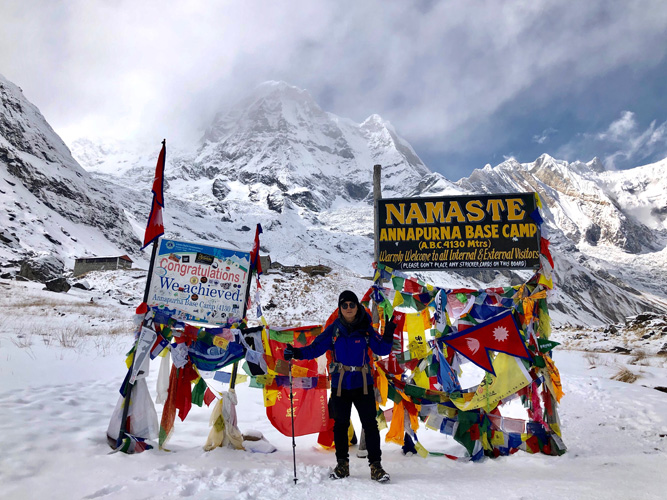 Looking out of the window, the fog has gradually filled the valley, and then snowflakes, visibility less than one meter, I sat at the window, holding a cup of coffee, looking out of the window one by one from the fog difficult to drill out of the ants, without exclamation: "this is the fucking life!"
Day 6
Route : abc - mbc - deurali - himalaya - dovan - bamboo - sinuwa - bhanuwa- chhomrong
Please Return by the Way You Came! Because it's downhill road, so I decided to take more roads and target chhomorong.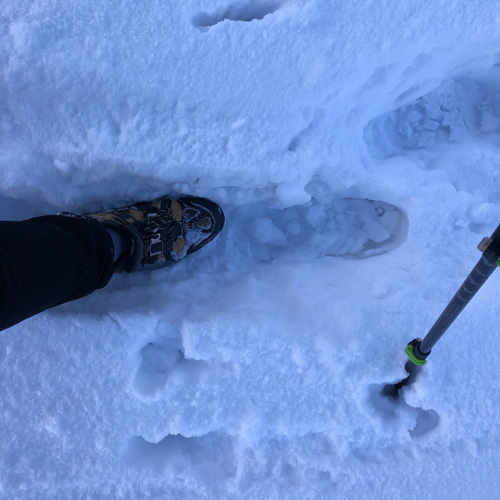 Last night, it snowed heavily. I woke up in the morning to see the sunrise and found that the snow was very deep. Although I added ice claws in the process of withdrawing, I still slipped several times and my feet were twisted, but it was OK!
When passing by sinuwa, I found that the inn environment here is really good. I really want to stop for the night, but considering that I can be relaxed the next day, I will bite my teeth and stick to chhomorong.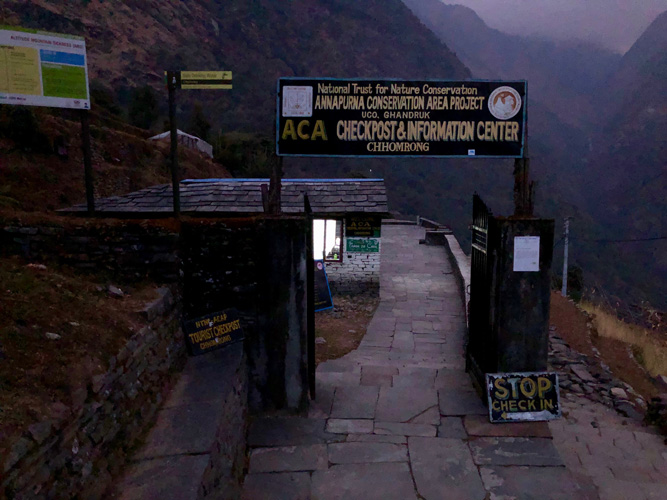 Day 7
Route : chhomrong - taulung - jhinu danda - samCollection - jeep counter siwai - pokhara - pokhara
It was the most relaxing day of the hike, which took three hours to reach Jeep station.
Because of my heart, I didn't enjoy the hot spring when I passed jhinu Danda!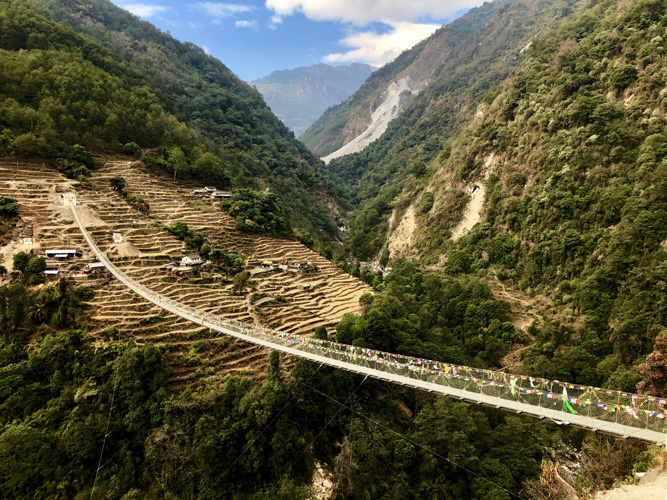 New Bridge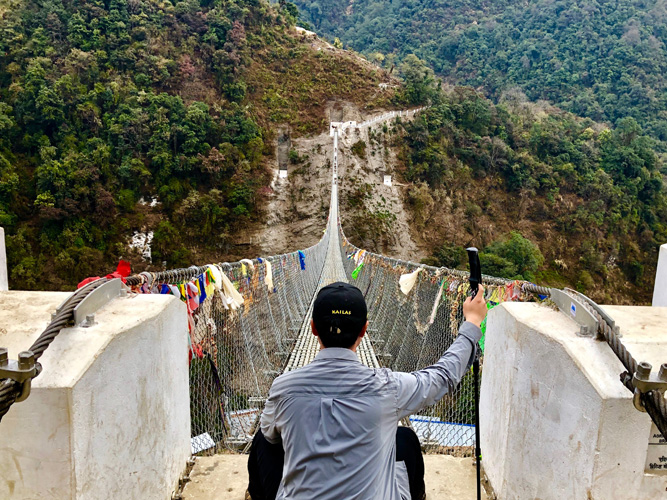 Precautions
Tipping
Nepal is a country of tips. In some restaurants, shops and inns, there will be a certain proportion of tips in the bill. There are many Nepalese workers coming to the airport to help you with your luggage when you leave or enter the airport, including the baggage in the lobby. If you are not prepared to tip, please do not allow them to move your luggage. Tips are required if they are asked to help carry the luggage.
Jet lag
Nepal time is 2 hours and 15 minutes later than Beijing time. For example, 12:00 p.m. Beijing time is 9:45 a.m. Nepalese time.
The language
The official language is Nepali. Hotels, shops, restaurants and other tourism related departments in English. The way Nepalese say hello is to put their hands together and say "Namaste".
Dust and dust
Kathmandu is said to be the most "native" capital in the world. You can imagine the dust in other places. Please prepare your mask before you go.
Drinking water
Nepal's tap water is groundwater or river water, the water quality is not good, direct drinking can easily lead to gastrointestinal discomfort. It's the most economical way to buy bottled water in the supermarket. A large bottle of water only costs 20 - 25 rupees. Tourists with sensitive stomach and intestines are advised to take stomach medicine in case of emergency.
Traffic safety
Nepal drives with right-hand drive and left-hand drive. Kathmandu is crowded with many vehicles. When crossing the road, you must first look at the vehicles coming from the right side, and pay attention to traffic safety.
Observe etiquette
In Nepal, women are not suitable for exposed and tight clothes. Don't wear slippers when visiting the temple. It's better to cross your knees in skirts and trousers.
One day tour of Boone mountain
On the way to buen mountain, the jeep can always go up the mountain and cross Heli. At this time, get off and hike to ghorpani to watch the sunrise of the next day. After the sunrise, return to Jeep station and take the bus back to bocala.
As for the hiking on the small ring road of buen mountain, there is nothing worthy of leaving or amazing scenery on the way. It's just to watch Annapurna's magnificent sunrise on the viewing platform of buen mountain, so tourists who don't like hiking can also seize the most beautiful scenery in the shortest time.
Experience of playing
ABC's hiking route is very mature. The goal of the hiking route is clear. Even if you go alone, you don't have to worry about getting lost. Every year, there are many tourists going to Nepal for hiking. It's safer to form a team for hiking. You can find a partner in the Qinglv Inn and make friends on the way. Tourists from any country are very enthusiastic!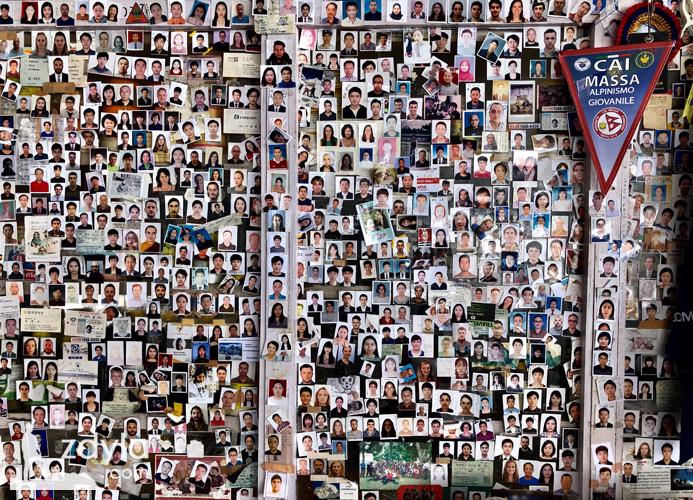 At last. Just do it !
More beautiful pictures
The spectacular sunrise on mount boone
Fish tail peak in the forbidden land
Black veil annapurna
Panorama of annapurna base
Annapurna sunrise
Author : 张大爷
Copyright Notice : Unless otherwise stated, please contact the author for authorization and indicate the source!